Get the ultimate freedom and flexibility with the F&D Bank mobile banking app from Farmers & Drovers Bank. The app lets you access your bank, bill pay and credit card accounts anytime, anywhere. It's the secure, smart and simple way to pay bills, view transactions and transfer money.
WHAT YOU CAN DO with the app:
Securely make bill payments anywhere. View all your upcoming bills, make payments, add payees and access your payment history.
View transactions anytime. Check on your cash flow and finances in real time from your dashboard.
Make transfers anyplace. Securely move money where you need it, when you need it.
WHERE TO DOWNLOAD the app:
Download the F&D Bank mobile banking app on the App Store℠ or Google Play™.
HOW TO LOG IN and use the app:
After you download the F&D Bank app, use your online banking credentials to log in. For additional security, you will also be asked to create a four-digit passcode. Your online banking and bill pay information will automatically sync with the app, including payees. Then you can make a payment to any existing payee from the app. To add a new payee, simply follow the instructions below.
TO ADD A PAYEE:
Select "Menu" on the F&D Bank app dashboard
Select "Bills"
Select the "$+" icon in to top right corner
Select your payee type—"Company" or "Person"
Enter the requested information
HOW TO LEARN MORE about the app:
Watch the short demo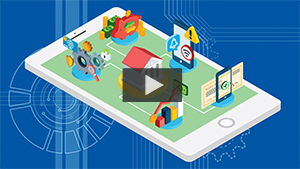 To start banking at the speed of life, download the F&D Bank app on App Store℠ or Google Play™.